2010-13 Kia Soul All Weather Floor Mats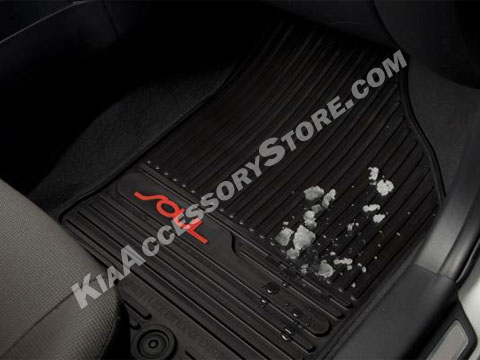 Floor mats are something you probably don't think about very often. But if you consider the cost of replacement carpet for your car, floor mats suddenly become a fantastic value. Floor mats are required equipment when it comes to protecting your investment, especially if you live in an area that sees lots of winter weather. These rubber mats are made out of natural heavy-duty rubber and have molded channels designed to trap water, road salt, mud and sand. Made of pliable natural rubber, these mats won't curl, crack or harden in sub-zero weather. These mats also have a nibbed underside will ensure a non-slip fit and come with a protective, non-stick finish to make cleanup quick and easy. This item is only available in black with a red Soul logo.
Only available in black with a red Soul logo only.
Sold in sets of 4.
1 Year warranty through Kia
Average rating:
2011 kia soul mats
02/22/2016
Custom fit in both back and front. The back pads fit exactly into the space provided. I couldn't be happier with the purchase.
good!
01/03/2016
They were exactly what I wanted. I bought a Soul at my local Kia dealership and the floormats were gone! Luckily I came across these after some googling. They fit in my 2014 Soul floor boards and lock in perfectly. They have a nice "SOUL" engraved on them (the front floormats, back seat mats have nothing on them) but it's black on black so it doesn't exactly stick out. They are clearly from Kia and not some after parts shop.

Owner
07/20/2015
Perfect for what we wanted.
Matts
03/07/2015
WOW should have purchased long ago thanks for a fantastic product. Must have for winter