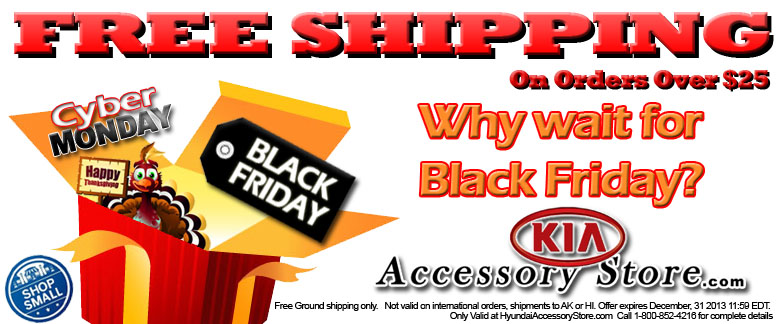 Where you going to find the best deals? Black Friday? Small Business Saturday? Cyber Monday? You don't have to wait! We are proud to announce FREE SHIPPING on all orders over $25.00 now through December 31, 2013. This is our way of saying thank you for all the support you have shown. Remember, your Kia deserves a gift too.



Kia Accessory Store would like to wish you a Happy Thanksgiving and a safe holiday!



Order now and avoid the rush! This offer expires December 31, 2013. For more information, please contact a member of our Parts and Accessories Department at 1-800-852-4216.



Thank you,
KiaAccessoryStore.com
UPS holiday shipping schedule
Order before the following dates to ensure delivery before Christmas.
Applies to in stock items, out of stock parts may require additional handling time.







Ground


Monday December 16


3 Day


Wednesday December 18


2nd Day


Friday December 20


Overnight


Monday December 23